PDF Presentation helps you organize, view and project PDF files on your iPad or iPhone 4 or iPod Touch 4th Generation. Take advantage of a large screen, video-projector, or simply the ability to hold on to PDF attachments you received via eMail for as long as you need. Combined with the Apple VGA Adapter, take control of crisp, full screen video projection.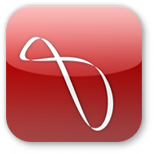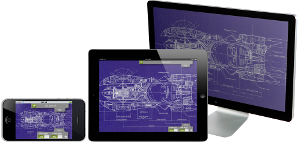 Apple VGA connector + PDF Presentation =
Larger than life PDF
---
PDF Presentation is
not
a mirroring software. Not only can you display the PDF files onto an external screen, what gets presented is only the unmodified, full-screen experience document.
"Navigation, storage, PDF file management, aspect-ratio, all these are only displayed onto the device itself, and not shared with the audience."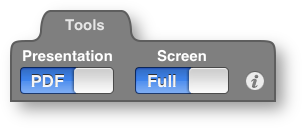 Importing PDF into PDF Presentation
From Mail, select a message containing a PDF attachment. Within the message body, simply hold-down to the PDF attachment you wish to open in PDF Presentation.
Open in "PDF Presenter"
You are done
Presenting a previously opened PDF file
All documents opened in PDF Presentation will automatically be added to its library
Display the PDF tab by either tapping on PDF or dragging the tab down into view
Bring up the library by tapping the chevron on the right
All available PDF files are listed here. Pick one.
Removing a PDF file from PDF Presentation
All documents opened in PDF Presentation will automatically be added to its library
To remove a PDF file, select the PDF tab on top of the screen, and hit the chevron on the right
All the previously opened PDF files are listed there.
Swipe the item you want to delete
or
Select the Edit button on the top right and delete multiple entries at once

How does PDF Presentation improve your experience
PDF will no longer clutter your mailboxes
PDF stored in PDF Presentation are not at risk of accidental deletion
PDF importing and display are simple, intuitive, straightforward and fast
PDF presenting is greatly improved from mere mirroring (**)
PDF presenting is extremely fast, due to internal proprietary display mechanism

(*) PDF, Portable Document Format, is a trademark of Adobe Systems Incorporated

(**) Apple VGA Adapter required for external screen projection.
This adapter is compatible with the iPad, iPhone 4 and iPod 4th generation.
To learn more about PDF Presentation, visit the App Store:
This e-mail address is being protected from spambots. You need JavaScript enabled to view it